MEDIA
---
Fact Sheet ...


Master Industry Code of Practice
[click the image to view]

Truck drivers should be routinely tested for SLEEP APNOEA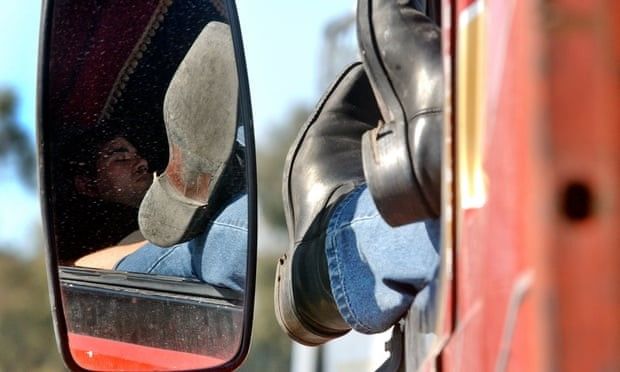 👨‍🔬There have been several studies that show having sleep apnoea can multiply the risk of motor vehicle accidents (2-7 times more likely).
It is for this reason the licensing authorities want to know about sleep apnoea.
Sleep apnoea affects people differently.
VicRoads states:
"Each driver is reviewed individually to determine the outcome that is best for the safety of the individual and the community."
💤If you have sleep apnoea and are sleepy behind the wheel, then yes, you should do something about it, for your own and others safety.
Our experience suggests that the overall clinical picture is taken into account and that a diagnosis of sleep apnoea alone is not enough for your licence to be revoked.
If you think you have Sleep Apnoea and you believe it is affecting your performance on the road, please talk to your GP or Specialist about it.
📰Recent Guardian article on Sleep Apnoea and driving
➡️https://www.theguardian.com/society/2019/sep/30/truck-drivers-should-be-routinely-tested-for-sleep-apnoea
👨‍✈️VicRoads information on reporting medical conditions.
➡️https://www.vicroads.vic.gov.au/licences/health-and-driving/medical-conditions-and-driving/sleep-disorders
---
ON THE ROAD
Issue 69 - 30 September 2019 (opens in new window)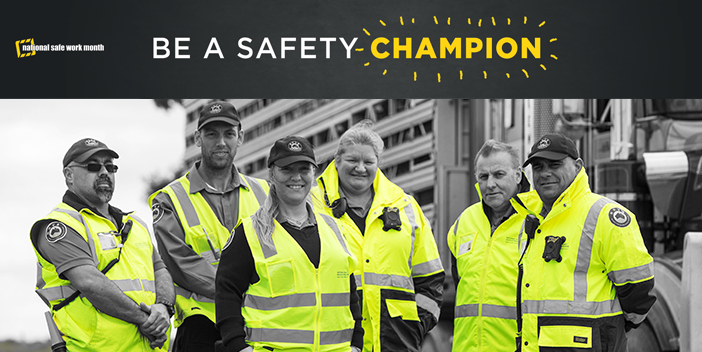 In this issue ...
Be a Safety Champion

Vehicle standards reform presents opportunity to take PBS scheme to the next level

New road rules announced in Tasmania

Livestock safety boost as unloading frame trial underway

Interest in EWDs growing
Issue 68 - 16 September 2019 (opens in new window)

In this issue ...
New safety campaign for truckies and caravaners to co-exist

NHVR recommendations aimed at keeping drivers safe

Great conversations at national truck driver info day

Feedback sought on CoR tools

NHVR Portal Access permits customer training

NHVR Portal - password security upgrade
Issue 67 - 3 September 2019 (opens in a new window)

In this issue ...
National approach key to modern, efficient heavy vehicle access

Quarterly snapshot

Supercars star heads new road safety campaign

NHVR calls for feedback on grain schemes

NHVR to trial new PBS design approval process

Portal customer training
---
REDUCE AUDITS, IMPROVE PRODUCTIVITY
[16th September, 2019 / Australian Trucking Association]

Reduced audits and independent accreditation are critical to improving trucking safety and productivity, Chair of the Australian Trucking Association (ATA), Geoff Crouch, said today.

The ATA and its member associations collectively represent the 50,000 businesses and 200,000 people in the Australian trucking industry. Together, we are committed to safety, professionalism and viability.

In his opening address today at the Australian Trucking Association and Australian Logistics Council Supply Chain Safety Summit in Sydney, Mr Crouch emphasised the need for law reform to address duplication and unnecessary complication surrounding compliance audits.

"The Australian trucking industry has come a long way since the Heavy Vehicle National Law was introduced, but we cannot rest on our laurels," Mr Crouch said.

"There are still problems within the law, which is why we called for a review.

"It has failed to increase our industry's productivity and failed to address the growing number of customer audits that trucking businesses are required to undertake.

Mr Crouch said the audits are costly, time-consuming, generally cover the same ground and are of little legal value.

The ATA's vision for the new heavy vehicle law includes a separate, voluntary, safety-based system for operators that need even more flexibility.

"We want to see the National Heavy Vehicle Regulator regulate accreditation scheme providers, not run one," Mr Crouch said.

"This would improve productivity and provide greater benefit to operators by reducing the need for multiple scheme and customer audits. Most importantly, it would be a big step improving safety outcomes," he said.

Mr Crouch said he looked forward to discussion during the Summit about the other barriers to streamlining compliance audits.

"This is about ensuring a safer industry, reducing audits, stronger regulation and competitive neutrality – there has never been a better time for transformational change in how we improve safety," he said.
"It's Happening! COR Sense Prevails In line with accepted best practice and the changes to duties under section 26C of the HVN. The grapevine says Boral have ceased face to face audits of their transport partners and are winding back their requirements for subcontractor documentation. They are now using a simple questionnaire and if they require further information or evidence of safety compliance they'll request it. Well done Boral we need more like you."
Sue Bottrell | Specialist Legal/ Safety Consultant - Contractor Management at ContractorSAFE
---
NHVAS Business Rule & Standards ... August 2019 changes
After a minor change to the requirements to be accepted as a NHVAS auditor a new version of the NHVAS Business Rules & Standards (Version 2.4) have been released. The change involves the ability for the NHVR to recognise an auditor's lead auditor qualification that has been issued by a body other than a JAZ-ANZ accredited body. [click the image to view the PDF document]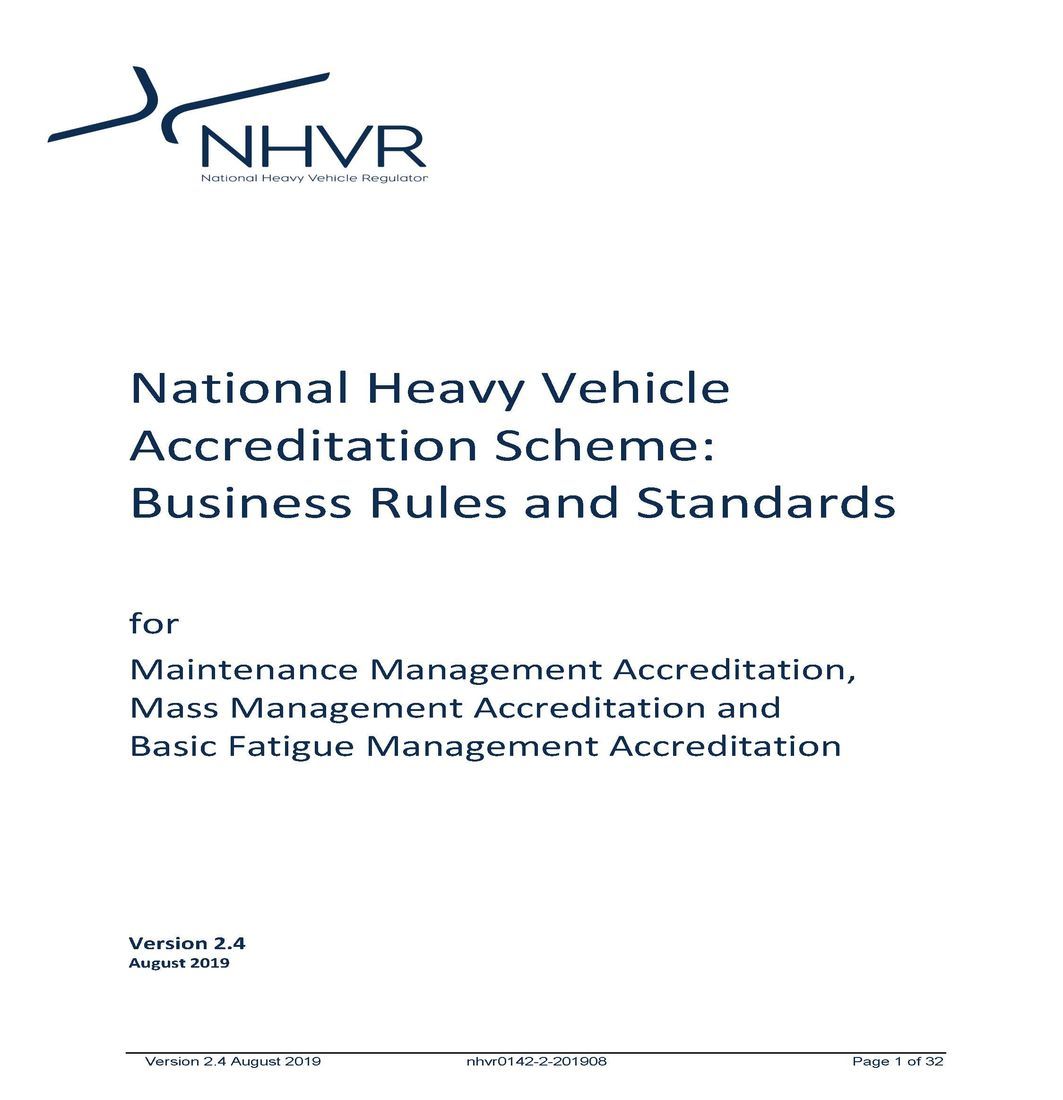 ON THE ROAD

---

ON THE ROAD Issue 66 - 20 August 2019 (opens in new window)

In this issue ...

Law reform can reduce fatigue related heavy vehicle crashes

Load property or face the consequences

Changes to SPV access in New South Wales and Tasmania

Join us at our national truck driver info sessions

Send us your photos from on the road
PREVIOUS UPDATES
NHVR MOVES AGAINST CUSTOMER COR OVERREACTION
Date: 01.04.2019
Regulator and SARTA toll bell on big firm misconception burdens
The National Heavy Vehicle Regulator (NHVR) is seeking to head off unintended developments related to recent Chain of Responsibility (COR) reforms, an issue that is also of concern to state industry bodies.
The NHVR has warned heavy vehicle operators to be aware of their responsibilities under the changed COR laws after several reports of unnecessary pressure to disclose additional information from larger customers beyond that required under the current provisions.
"For example, we have been contacted by a number of operators after they were asked to provide details of their drivers', safety systems and work diaries by a customer claiming they were required to be provided under COR laws," NHVR safety standards and assurance executive director Geoff Casey.
"Operators are required to meet their safety duty requirements under the recent changes by ensuring, so far as is reasonably practicable, the safety of their transport activities.
"There are some great tools available for operators through the NHVR's Safety Management System or the Registered Industry Code of Practice to give detailed guidance for operators.
"This level of information is not required by a customer or primary contractor under the law.
"The law makes it clear that it's the transport operator's responsibility to manage their own operations and activities so as to ensure safety under the primary and safety duty provisions."
Casey underlines that each party in the heavy vehicle supply chain was liable and responsible to the extent of their level of influence and control over the particular transport task.
The NHVR has been made aware of a number of similar instances during 13 information sessions conducted for over 400 businesses during February and March.
South Australian Road Transport Association (SARTA) executive officer Steve Shearer says many members had expressed their dismay at the unintended and unnecessary administrative and cost burden that too many customers are imposing on road transport operators by over-reacting to the COR provisions.
"A customer who engages a road transport operator to move their freight does not generally have influence or control over the operator's drivers, nor over the maintenance of the trucks," Shearer adds.
"Customers need to be aware that the more they seek to micro-manage road transport suppliers, the more they will increase their level of influence and control and in doing so they will significantly increase their own legal liability under the COR law and unnecessarily increase their own compliance costs.
"Customers are entitled to rely upon the fact that their transport operators have systems and procedures in place to manage their own safety responsibilities, provided the customers don't prevent or inhibit the transport operators' and drivers' ability to be compliant.
"Corporate customers, including prime contractor transport operators, need to review their CoR practices and procedures to ensure that their business meets its CoR responsibilities while avoiding taking this beyond their business' level of influence and control under the HVNL."
Casey says a customer or primary contractor may request additional information under a commercial arrangement that is subject to agreement but it is not a requirement under the Heavy Vehicle National Law (HVNL).
"Both parties need to work together to ensure that they each understand their respective responsibilities, including the limits of those responsibilities, and that they each manage those responsibilities effectively."
The customer is likely to have influence and control over:
the deadlines and schedules for freight to be moved and delivered
whether or not the customer's operational practices in their depots adversely impact on drivers' effective fatigue management, such as delays in loading or unloading that adversely influence the driver complying with work and rest requirements
whether or not the freight is loaded and restrained correctly, when the customer's staff perform these tasks
whether or not the customer's business practices including payment terms and other contractual matters, cause or encourage breaches of the law
where customers load and restrain the freight, they are responsible for that and if they seal the load they can't require the driver to sign-off on it.
Correctly declaring the mass of the freight to the transport operator.
Under the primary and safety duty provisions, customers don't need to require truck operators to provide:
service and maintenance records for trucks
drivers' names and licence details
access to speed monitoring of the trucks
access to drivers' Written Work Diaries.
South Eastern Freeway – Heavier Penalties for trucks and buses

Businesses who fail to nominate the driver responsible for a camera-detected speeding offence, will also increase from $300 to $25,000.

From 1 May 2019, increased penalties will apply to drivers of all trucks and buses who are detected driving unsafely on the down-track of the South Eastern Freeway.

This applies to owners and operators of trucks with a Gross Vehicle Mass (GVM) of more than 4.5 tonnes and buses built to carry more than 12 adults including the driver.

An expiation fee of $1,036 plus six demerit points and six months loss of licence will apply to drivers of these vehicles for:

· Exceeding the relevant speed limit by 10km/h or more; or

· Failing to use a gear low enough to limit vehicle speed without the use of a primary brake.

Subsequent offences and drivers convicted by the Court will face even heavier penalties.

The body corporate levy, applicable to businesses who fail to nominate the driver responsible for a camera-detected speeding offence, will also increase from $300 to $25,000.

You are encouraged to distribute this information throughout your networks.

Note: Under the Australian Road Rules, a motor vehicle with a Gross Vehicle Mass (GVM) of more than 4.5 tonnes is classified as a Truck regardless of the body type of the vehicle (excluding tractors, trams and buses). A motor vehicle built to carry more than 12 adults including the driver is classified as a Bus.

For more information –

Download the EzyReg app

Call Service SA on 13 10 84

Visit www.infrastructure.sa.gov.au/SEFreeway

Roadworks Notification

Port Adelaide Enfield: Francis Road and Davis Street, Wingfield

The City of Port Adelaide Enfield wish to advise that the intersection of Francis Road and Davis Street, Wingfield will be closed for all heavy vehicles from Monday 8 April to the end of May, weather permitting due to road reconstruction. During construction the south section of Davis Street will be used to access properties.

Heavy vehicles will be detoured via the intersection of Davis Street and Grand Junction Road with the following approved turn movements:

· Right out from David Street onto Grand Junction Road

· Right in from Grand Junction Road into Davis Street.

All other turning movements are prohibited.

For more information contact the City of Port Adelaide Enfield

Business Rules and Standards – Summary of Changes

Introduction

Currently the National Heavy Vehicle Accreditation Scheme (NHVAS) provides three modules for participation, Maintenance Management, Mass Management and Fatigue Management. The scheme focus is for methods of alternate compliance with road transport laws or concessions to carry additional mass or use extended driving hours.

The governance of each module is controlled by the NHVAS Business Rules & Standards. The business rules are common to all modules however the standards to which a participant must comply varies according to the relevant standards of the module. Some commonality exists between the standards as there are specific reporting and administration tasks that each module must include.

Since first introduced the scheme has undergone change where additional modules such as fatigue have been added and at various stages the standards have undergone review, but this review is the first time that all modules have undergone simultaneous consideration with the driving force coming from the Heavy Vehicle National Law (HVNL) participating jurisdictions transport ministers request for a strengthening of the credibility of the scheme.

Consultation with jurisdictions and industry had taken place in late 2013 with a view to conduct a review of the standards in 2014. Circumstances prevented the review from taking place at that time however the feedback received at the time has been considered and incorporated into the changes included, where found to be appropriate.

The review of the Standards was part of the project deliverable from the NHVAS Review as endorsed by the Responsible Ministers. The NHVAS Review was included as part of the acceleration of the Roadworthiness Project due to the fatal Mona Vale heavy vehicle incident.

The review identified inconsistency between the standards where similar tasks are carried out. In some instances, insufficient detail was included in the standards for a participant to be clear on what they had to comply with as well as acceptable methods for compliance.

It was also identified that the two fatigue modules contained standards that are similar to both. All of the additional standards within AFM were all able to be mapped to the existing BFM standards.

It was seen that operators in both AFM & BFM were required to comply with the same standards however they were managing a different level of driving hours.

With this situation the modules were able to be united to form the Fatigue module with the option of using BFM prescribed hours or AFM approved hours. It is on entry into the fatigue module that the option is chosen, and the appropriate application criteria is required to be met. If successful approval is granted to use either AFM or BFM hours.

This document is constructed using the addition or removal with explanation approach. Red text signifies change, with a descriptor of the amended section and explanatory note written in red text for any standard that has been changed.

Where an amendment descriptor is not listed the standard can be taken to be unchanged from the previous version.

2.Executive Overview

Business Rules Major Changes

AFM Business Rules harmonised into existing business rules no longer stand alone
All references to FERG removed replaced with advice from jurisdictions and 3rd parties
All FERG requirements removed replaced with ability for NHVR to seek external specialist advice
Audit Completion Notification process removed
Requirements for re-entry after cancellation added
Inclusion of crash/incident reporting for operators – Notifiable Occurrences
Owner of a sub-contractor vehicle has the right to remove the vehicle from an accreditation
Included vehicles must hold current registration
Timeframes set for reapplying after being refused – 6 months
Fit and Proper person requirements added including assessment criteria
Greater clarification on criteria for extending an accreditation to 3 years
Operators must provide the auditor prior to an audit – drivers list, compliance history and previous audit report

NHVAS Standards Major Changes

Maintenance Management

STD 1

Strengthened to include a daily check of tow couplings and drawbars for security & integrity
The vehicle is no longer certified as "roadworthy" after a daily check but rather "safe" to the limits of the inspection.

STD 4

All vehicles being nominated will require current vehicle inspection by a road transport authority or their delegate no more than 12 months old.
All nominated vehicles must undergo an annual mechanical inspection that is at least equal to the inspection conducted by a road authority by a suitably qualified person.
The module is no longer recognised as a suitable program for fuel tax rebate purposes all references and requirements for fuel tax rebate removed.

STD 5

For a more stringent approach to the control of operator's handling vehicle defects operators must now keep a register of infringement and defect notices received which includes;
the registration & VIN number of the vehicle to which the notice was issued
the date, time & place the notice was issued
the nature of the contravention (description of the defect)
the date the defect must be repaired by
who conducted the repairs
the date the repair was completed
the authorised entity that cleared the notice.

STD 7

Reworded to provide a clear distinction between the two internal improvement reporting processes of;
conducting an annual internal review, and
completing the quarterly compliance statement

STD 8

Criteria for this standard have been introduced to provide clear instruction on what procedures and records are to be kept for relevant training.

Mass Management

STD 2

Reworded to clarify that trailers although not individually nominated are considered as a nominated vehicle when used in combination with a nominated hauling unit.
A documented process for how the register of nominated vehicles is to be kept now required

STD 4

Reworded to align with the policy decision introduced that only requires records for trips that involve masses above GML.
For a more stringent approach to the control of operator's handling defect notices and penalty infringements for overloading operators must now keep a register of defect notices and infringements received which includes;
the registration & VIN number of the vehicle to which the notice was issued
the date, time & place the notice was issued
the nature of the contravention (description of the notice and or defect )
if a notice in relation to vehicle standards,
the date the defect must be repaired by
who conducted the repairs
the date the repair was completed
the authorised entity that cleared the notice.

STD 5

The minimum frequency of conducting verification is now set to twice a year. Previously no minimum frequency was set.
A notation has been added to the standard that provides instruction that if the policies and procedures adopted for standard 3 can demonstrate that vehicle loading is controlled to ensure the vehicle is loaded within allowable gross & axle limits for every load and every trip then the criteria for this standard can be considered as having been met.
Where the loading method used to meet standard 3 is such that it is able to provide known masses for every trip then this will be taken to meet the requirements for verification (standard 5) and no additional verification will be required.

STD 6

Reworded to provide a clear distinction between the two internal reporting processes of;
conducting an annual internal review, and
completing the quarterly compliance statement

STD 7

Criteria for this standard have been introduced to provide clear instruction on what procedures and records are to be kept for relevant training.

STD 8

Criteria reworded so that the statement of compliance for vehicles not owned by the accredited operator are no longer required to be carried in the vehicle.

Fatigue Management

STD 1

Previous AFM & BFM standards unified

STD 2

Renamed to reflect the unification of BFM standard 2 and AFM standards 2 &7
Criteria reworded to allow the NHVR Board to decide if a document is equal to the Aust Roads medical certificate rather than the Australian Transport Council which no longer exists.

STD 3

Previous AFM & BFM standards unified

STD 4

Renamed to reflect the unification of BFM standard 4 and AFM standards 4 &9

STD 5

Previous AFM & BFM standards unified
New criteria included for consistency with other NHVAS modules, as previous BFM & AFM standards did not have the requirement to produce a quarterly compliance statement included in the standards.

STD 6

Previous AFM & BFM standards unified
The minimum amount of driver records to be checked now established.

STD 7

New Standard, the requirements to ensure workplace conditions are maintained or established to assist with preventing fatigue now included. Facilities and equipment provided to drivers must meet with work place safety legislation and minimum vehicle design rules, specifically for sleeper cabs.

To learn more about the proposed changes to the Business Rules and Standards, click here

Your rights if authorised officers enter your business premises

Under the Heavy Vehicle National Law (HVNL), the Roads and Maritime Services (RMS) and the police have significant powers to enter premises and seize materials.

The enforcement powers authorised officers have:

Authorised officers are generally employees of state and territory regulators such as the RMS. Police officers are also given powers under the HVNL in addition to their regular powers. Both are authorised under the HVNL to carry out monitoring and investigations involving inspection and seizure of documents and materials that may be evidence of breaches of the HVNL.

An authorised officer may only enter a place without the occupier's consent if they have a warrant, unless the place is open for carrying on a business or required to be open for inspection under the HVNL. An authorised officer must identify themselves and tell the occupier the reason for entry.

After lawfully entering a place, an authorised officer has a number of powers of investigation, including to search, inspect, examine and film documents or materials, as well as take an item or a physical or electronic copy of a document.

Information you will be asked for in a raid:

You should keep records of your compliance with the HVNL for five years. The information that you may be required to produce for the regulator, or a court will vary depending on the alleged breach. Generally, you are likely to be requested to produce applicable documents including, but not limited to:

Chain of Responsibility (CoR) policies and procedures;
work/rest diaries;
vehicle maintenance records;
training and induction records; and
transport provider contracts.

What you should do if your premises are raided:

If your company is raided, you must ensure that the scope of the investigation is clearly set out in the search warrant and that only persons and materials relevant within the limits of the investigation are interrogated or seized.

If the RMS or the police raid your premises for HVNL-related information, you must provide all reasonable assistance to the officials within the following parameters:

Ask to see the search warrant and the official's identity card and make copies of these documents. If the officer fails to produce identification, you may refuse entry until they do so.
Co-operate with the officers but do not volunteer information. You must not obstruct the officers from entering the premises or during the search, but you may assign a person to shadow the officers at all times.
Do not make any statements or answer any questions without a lawyer or senior manager present. You may wish to ask the officers to wait in a meeting room with no records in it until a senior manager or lawyer arrives. Request that you be given time to brief the business, the shadowers, relevant employees and the IT managers. However, if the officers insist on initiating the inspection, you must comply.
Tell the officers that they may not interview employees without the presence of the senior manager or lawyer, and that they must be shadowed by a lawyer or a senior manager at all times.
Establish what the officers want to see – which employees; offices, cabinets and records; whose laptops; which IT accounts; which IT servers; and how long the inspection will last?
Do not destroy, throw away or hide any documents, material, emails, computer files, etc.
Do not tell anybody about the raid who is not required for the investigation. Brief the relevant employees and make sure that they are aware that they need to be available throughout the entire day. They cannot alert third parties or inform anyone outside the business nor destroy/hide documents including emails or access to email accounts; and they should not answer any questions without the presence of the senior manager or lawyer.
Keep a written or audio record of all questions and answers. Make sure you have a copy of all documents copied by officers.

Don't forget about legal professional privilege:

Officers conducting a raid are not entitled to compel a person to produce a document that would disclose information that is subject to legal professional privilege.

Privileged documents include written communication between a company and an independent external or internal lawyer where the communication was made for the dominant purpose of:

obtaining legal advice; or
assisting in, or for use in, actual or contemplated legal proceedings.

If legal privilege over a document is claimed, the document should be placed in a sealed envelope under the supervision of an officer.

SWMS vs SOP

There is some confusion since the inception of the "Safety Management Systems" concept by the NHVR and COR. While there is varying opinion about what constitutes a SWMS versus a SOP the result should ultimately be the same.

A Safe Work Method Statement (SWMS) can be for a specific Job or Task; As can a Safe Operating Procedure (SOP)

If the Task is repetitive them it does not need to be republished each time that task is undertaken;

so long as the participants have been trained and understand the responsibilities around it!

If the Task ultimately changes, then it is to be reviewed and discussed at a "Tool box" (Call it what you like) meeting and updated, including training in the new Task or activity.

A safe operating procedure(SOP) is a written document that provides step-by-step instructions on how to safely perform a task or activity which involves some risk to health an safety. A Safe operating procedure is sometimes referred to as a safe work procedure or safe work method statement.

From NHVR FYI

The NHVR is introducing updated business rules and standards for the NHVAS schemes, this is to compliment the updated information since the Introduction of the COR becoming a part of the HVNL.

There will be information sessions and the closing date for submissions is 31st March 2019.

A number of sections will affect some of our customers and there will be information and changes which affects ALL customers and operators, these are identified in red in the business rules accessible on the regulator's website.

https://www.nhvr.gov.au/…/201812-0959-nhvas-business-rules-…

Some specific notations: albeit NOT extensive, but important are:
Roadworthy to be removed from some sections and replaced in some sections with Safe or Safety Related.
Trailers are to be nominated for the management of records for the Mass scheme.
Verification timelines are to be identified
TRAINING has been identified as a Mandatory component of all schemes.

There are a lot more additions and omissions to be reviewed, but this gives you an idea of the reviews we will need to make to your manuals and procedures.

If you have any questions, concerns or require more information, please do not hesitate to give me a call

MEDIA RELEASE

Issued by Managing Director of Global Accreditation Services, Greg Harmes

Monday 5 November 2018

Release begins

Whilst from 1 October, all of those involved in the transport industry as operators or users have now to comply with the Heavy Vehicle National Law ("HVNL"), this is nothing more than a formalisation of the laws and regulations that previously applied to road transport industry participants.

Greg Harmes, Director of Global Accreditation Services commented:

"The new law creates no new obligation on transport companies and drivers. The legal requirement to provide for the safety of drivers, and the general public has been in existence for years. All this new law does is provide greater clarity around the systems one needs to have in place, and the chain of responsibility that all users of heavy transport vehicles have."

"Having been a transport industry participant for many years I welcome the clear obligation that is now imposed on all involved with the transport industry, whether they be transport operators/managers, consignors/consignees or those responsible for packing and/or loading goods for transport, to have systems in place so that they can substantiate that they adhere to the heavy vehicle transport regulations. The operation of the HVNL imposes no new obligations but makes it even more clear what responsibilities all participants have".

"As a compliance auditor for the Transport Industry, I absolutely support these measures to make people aware of their responsibility and accountability. For some years we have been working with our clients and the industry more broadly to develop methods and systems to ensure that

Vehicle loads are within mass and dimension limits
Loads are adequately restrained and secured
Drivers do not, and are not forced or encouraged to drive whilst fatigued
Vehicles are well maintained
Industry participants are well trained to understand the various responsibilities and obligations in ensuring and providing evidence of compliance to these requirements."

Whilst being a strong supporter of the HVNL, Mr Harmes has expressed his concern over what he believes is opportunistic behaviours of some industry participants.

"I have seen documents where some operators are increasing prices and/or imposing levies and using the HVNL as justification for so doing. That is just plain wrong. The HVNL imposes no new obligation on transport companies other than to be able to substantiate that they have the appropriate systems in place. They have always had a responsibility to their drivers and other road users to ensure their operations are conducted safely. People wanting to organise freight for their business should push back strongly against this price gauging by greedy operators", said Mr Harmes.

Mr Harmes also emphasises the need for "good relevant training and commitment to systems"

Mr Harmes warned that transport industry operators being approached by people marketing ipad or other on-line administrative systems should not be tricked into thinking that the purchase of these I.T. based systems will provide all that is needed to satisfy the legal liability of transport industry operators. Mr Harmes stated, "These devices and systems are merely tools that can make the recording of what you are doing to comply easier."

"That is if they work!" he emphasised.

"These tools do not take the place of good management risk review and training, nor integrity when committing to accepting the chain of responsibility obligations fully. We need to educate people more and those involved in the industry need to focus upon the safety of drivers, and not to take short cuts when managing their businesses. They just have to have very good systems in place," concluded Mr Harmes.

End of Release

Further clarification and comment can be obtained by contacting Greg Harmes (Global Accreditation Services) (Ph. 0417 585 223).

BLOG

Tuesday 25 September 2018

Leading transport lawyers Nathan Cecil and Geoff Farnsworth identify the three biggest missteps businesses make in dealing with their COR obligations.

Changes to the Heavy Vehicle National Law (HVNL) are due to 'go live' on October 1, 2018.

For anyone who has been deaf to the 'drum-beat' of the last two years (or so), now is very much the time to not only start thinking about upgrading your compliance, but to actually start doing it. Speaking objectively, there is really no excuse. The last two years have seen a quickening of awareness and activity around the impending changes.

The National Heavy Vehicle Regulator (NHVR) has rolled out a significant awareness-raising campaign, across various sectors of the supply chain. It has made considerable resources available through its website.

The NHVR's caravan has been followed by various industry associations and consultants, all in an effort to raise awareness and offer assistance around understanding obligations and tailoring a compliance program to meet those obligations.

Nathan Cecil spoke at the Road Freight New South Wales Conference last week. Check out what he said here

A joint effort of the Australian Logistics Council and Australian Trucking Association has produced a master code of practice to guide parties in devising compliance systems to meet the new laws. At this stage, it is almost impossible to know how successful those efforts have been.

Our experience tells us that several large Australian businesses have devoted considerable time and expense in upgrading their compliance in preparation for the new laws going live.

Road-users, including heavy vehicle drivers, should be gratified to know that our roads are that much safer as a result of these initiatives.

We suspect the '80/20 rule' will apply – with around 20 per cent of relevant businesses being aware of and understanding the changes in the law and implementing properly targeted and responsive steps to prepare and 80 per cent of businesses misunderstanding or underestimating their enhanced chain of responsibility (COR) obligations to a greater or lesser extent.

That is, we very rarely come across businesses that are 100 per cent compliant. However, this split in itself is probably an improvement over the levels of compliance with 'old COR'.

Challenged Sectors

If we were to single out two 'challenged' sectors, we would identify:

Import containers must be packed and their contents secured to Australian standards (refer to Load Restraint Guide 2018), not the standard at the place of export. The volume and nature of container trades means it's impossible to routinely open and inspect inside containers when they arrive at the wharf and before they take to the roads. Truck drivers and operators are often at the "front-line" when dealing with the consequences of poorly packed and secured containers – but it is the importer's job under the COR to tell its suppliers how containers must be packed and to check that this instruction is being followed.

A potentially lethal combination of factors (including long distances, dispersed demographic and, in some instances, a 'frontier' attitude) continue to challenge compliance for rural industries. That does not mean that considerable efforts are not being made to get the message across and encourage compliance in major cities. Hopefully those efforts will bear fruit.

Biggest Missteps

If we were to single out the three biggest missteps by business in dealing with their COR obligations, we would identify:

COR applies to all transport activities

Many businesses still only focus on COR for outbound transport activities relating to primary goods i.e. when they send out the main goods with which the business deals.

However, the COR laws apply to all heavy vehicle transport activities – in or out. So, in addition to addressing COR compliance for any outbound movement, businesses need to consider COR implications for inbound goods, materials and equipment supplies. Further, COR laws apply to the heavy vehicle movement of all goods, not just the main outputs of the business.

So, COR laws might also apply to the inbound delivery of fertiliser, feed, fill or raw materials and the outbound removal of agricultural waste, rubbish or soil/spoil.

You need to take all steps to address safety, not just some

Doing something in relation to COR is better than doing nothing. However, the compliance obligation is for businesses to take all reasonably practicable steps to address safety, not just some or even most.

So, businesses need to think about their COR risks and compliance measures from a number of angles and plug any holes.

A new link in the chain

Tuesday 7 July 2018

In October, changes to the Heavy Vehicle National Law (HVNL) will shift responsibility for safety to every party in the transport supply chain. For farmers and producers, you become part of this supply chain when you send or receive goods using a vehicle that carries more than 4.5 tonnes, or if you own heavy vehicles that transport your goods. The new legislation aligns closely with workplace health and safety regulations to ensure no one is exposed to unnecessary risks, so identifying hazards is key. In short, it means making sure that everyone gets home safely.

Further information can be found in this weeks LBRCA Weekly News.

Vic Roads Sharpens Heavy Vehicle Driver Focus

ATN Industry News 31/07/2018

VicRoads will keep up the pressure on heavy vehicle drivers to ensure they continue to abide by the state's road laws, after courts handed down one of its heaviest penalties in recent years.

Link: https://www.fullyloaded.com.au/industry-news/1807/vicroads-sharpens-heavy-vehicle-driver-focus?utm_source=atn_newsletter&utm_medium=email&utm_content=article1_image&utm_campaign=31-07-2018&utm_term=list_fullyloaded_newsletter

Thursday 19 July 2018

Greg Harmes, Director Global Accreditation Services

Under both the current and new laws, executives can be held accountable if they are not properly managing business compliance.

As part of discharging that duty, executives have to be aware of the CoR risks faced by their business and what the business is doing to manage those risks. But that is only two-thirds of the pieces in the puzzle. The third piece is that executives must know whether the measures implemented are effective in avoiding or mitigating CoR risks.

In order to complete the puzzle, executives need to understand the compliance performance of the business, which is where executive compliance reporting comes in.

Without such reporting, executives will not be meeting their obligations. Under the new laws, executives could be fined up to $300,000 and jailed for up to five years for failing to meet their obligations.

Please get in touch if you would like to have a chat about whether you are currently meeting your CoR obligations.

TRUCK DRIVER MEAL ALLOWANCES: FIXED

Media release – Australian Trucking Association 27/10/2017

The tax office has fixed truck driver meal allowances, following close consultations with the ATA, its members and other trucking industry associations.

In July, the tax office announced that employee truck drivers would only be able to claim $55.30 per day in meal allowances without detailed receipts.

In its revised determination, released today, the tax office has reinstated its former meal-by-meal approach to reasonable meal amounts. The new reasonable amounts for 2017-18 are:

breakfast: $24.25*

lunch: $27.65*

dinner: $47.70*

ATA Chair Geoff Crouch said the revised determination would benefit 38,000 truck drivers and treat them as professionals. "The new determination means that truck drivers can claim, without detailed receipts, the same amount for meals as other comparable employees in what are called tier 2 and other country centres," Mr Crouch said.

"One of the ATA's highest priorities is to make sure that government agencies never treat truck drivers as second class citizens. Our drivers are professionals and deliver the goods for Australia.

"We took this argument into our initial discussions with the tax office. The decision reflects our approach." Mr Crouch emphasised that truck drivers could only claim for the amount they spent on a meal, despite the reasonable amount.

"If you spend $45 on dinner, you can only claim a deduction for $45, not $47.70. Because it is within the reasonable amount, however, you do not need to keep every receipt," he said.

"The tax office fact sheet sets out the evidence you do need to be able to provide if you are audited."

Mr Crouch said the ATA would now focus on the meal allowance amounts for 2018-19 and beyond.

"We want to work with the tax office to simplify the claiming system further. There were also a number of issues raised by our member associations and individual drivers in our consultations that we could not resolve in the urgent timeframe for getting this decision fixed," he said.

Mr Crouch thanked the ATA's member associations, other associations and the staff of the tax office for their work.

"The ATA, its members and other associations worked closely together to get this result. I'd also like to thank the staff of the tax office for their willingness to discuss and resolve our issues, once we had explained our concerns," he said.

*These amounts are separate and cannot be combined into a single daily amount or moved from one meal to another. As a result of the discussions with industry, the ATO has accepted that some drivers eat their meals at unconventional times, depending on their work and rest hours. A drivers can claim (for example) for a dinner eaten in the morning after an overnight shift, but cannot claim a deduction for more than one meal of each type in a 24 hour period.
Company News
NHVR Industry Updates
Click here to view the latest NHVR Industry Updates - https://www.nhvr.gov.au/news-events/industry-updates
National Road Transport Association (NatRoad)
Click here to view the latest NatRoad news - https://www.natroad.com.au/news/
Livestock and Bulk Carriers Association (LBCA)
Click here to view the latest LBCA news - http://lbrca.org.au/category/news/
Australian Livestock and Rural Transporters Association (ALRTA)
Click here to view the latest ALRTA news - http://alrta.org.au/category/media-releases/
Australian Trucking Association (ATA)
Click here to view the ATA's Friday Facts - http://www.truck.net.au/public/newsletters/friday-facts
For more information about your state or territory, please refer to the following websites: